Finally, we're pretty sure we are done with eliminating bugs that were preventing us from sharing with you all the awesome new stuff that awaits you in the new version of AdGuard for Windows. So, welcome: AdGuard 7.0! From the very start, you'll notice the difference, as you'll be greeted by renovated UI design. And the more you use the new version, the better you'll find it, hopefully: brand new CoreLibs filtering engine will make ad blocking better and faster. There are more goodies inside, so let's get to the gist.
[Improved] UI and installer redesign #2574
It is somewhat of a tradition by this point to have a UI redesign with each major AdGuard for Windows version upgrade. This time will not be an exception. AdGuard 7.0 for Windows will look very different from the current familiar version. Have a look for yourself: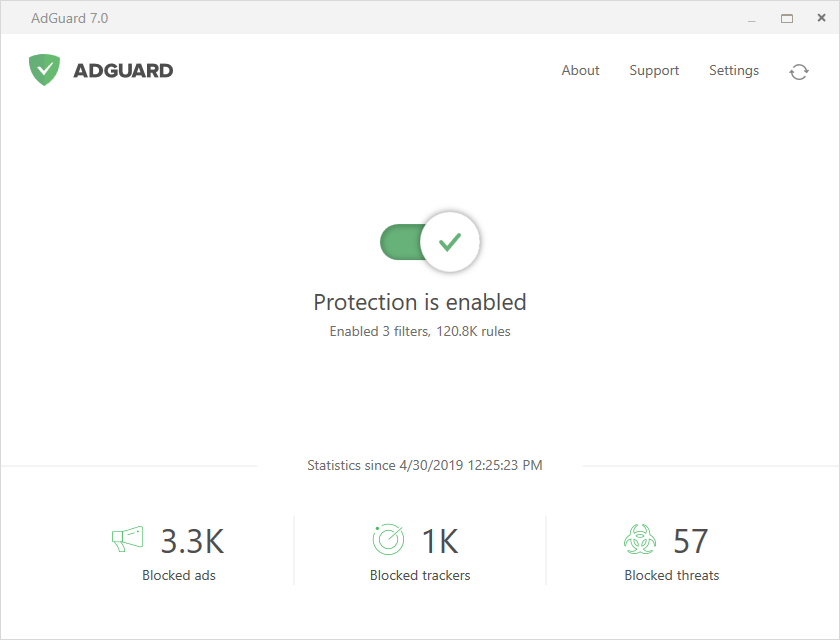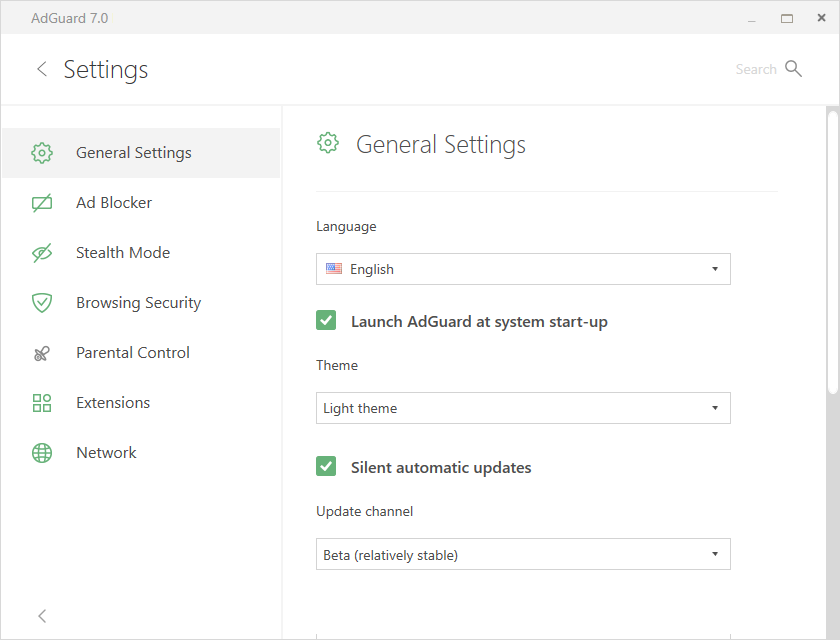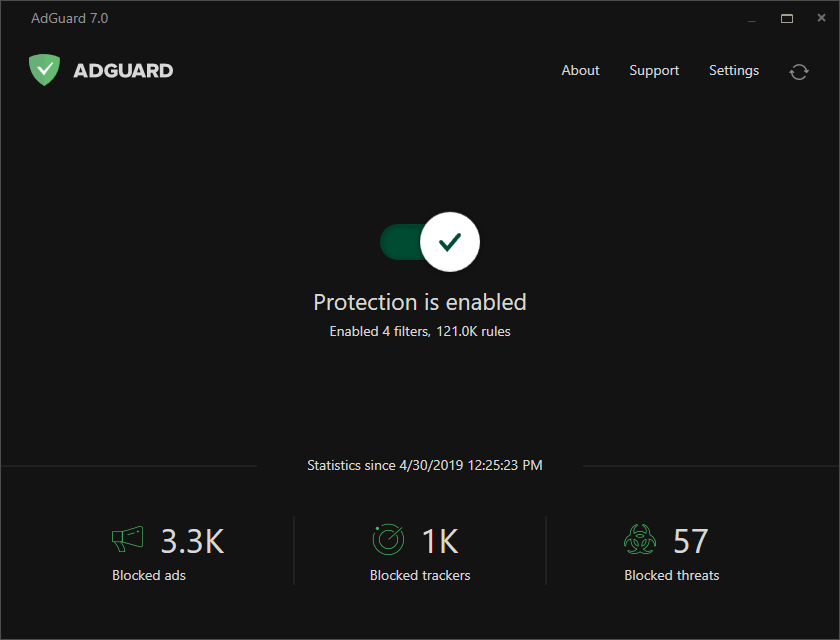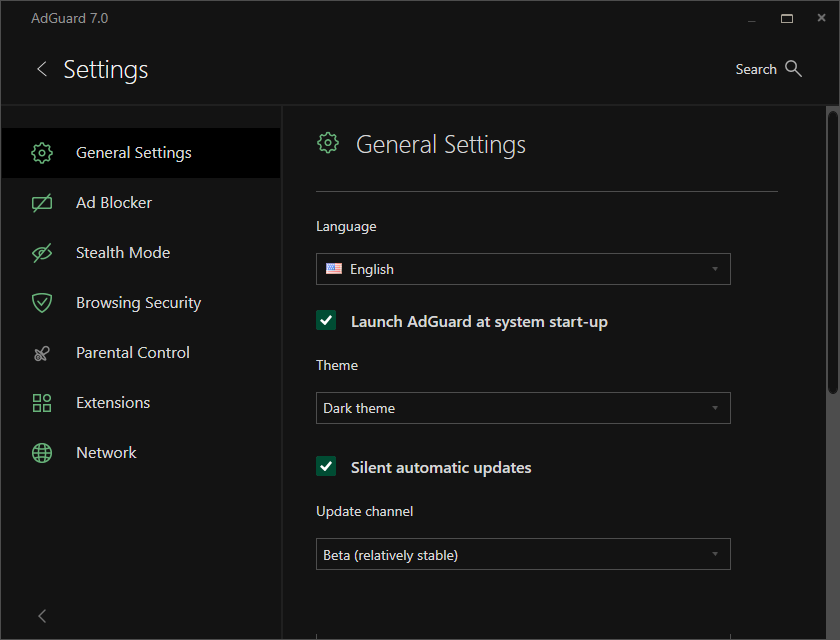 Yes, you saw it right: AG for Windows now has a dark theme too! Love it or hate it, it's there, it's optional and you are free to embrace it or ignore it altogether.
The installation wizard follows the trend and gets a redesign too. It only makes sense, because the installer is the first thing new users see when they start their acquaintance with AdGuard, and it better be good! Hope you'll find it an upgrade too:
[Improved] Corelibs
Everybody knows what CoreLibs is by this point, but we'll remind anyway: it is a filtering engine that drives the whole process of ad blocking in most AdGuard products, AdGuard for Windows included. And with every new version of CL these products become better: the quality of ad blocking increases, they work faster and become more stable. This beta of AdGuard 7.0 for Windows features the most recent of CoreLibs version, which means this is as good as it gets. Well, at least until the next CoreLibs update
,In this beta we make an emphasis on UI changes but also fix several crashes. We also took this opportunity to introduce a new userscript — AdGuard Extra.,This is more of a hotfix than a beta. Some Firefox users reported problems with browser freezing. We determined that this behavior was a sequence of hanged connections, which in its turn was caused by a CoreLibs bug. It's crucial to eliminate all such bugs before we release a stable version (which will be soon), so here we are.
[Added] Automatic crash reports #2298
Sometimes apps crash, and you can do nothing about it. Reasons can be very different, and so are solutions. To be able to investigate every crash individually and find a proper fix to it, we add integration with an automatic crash report system. If AdGuard crashes, upon the next launch you'll be asked if you want to send a crash report.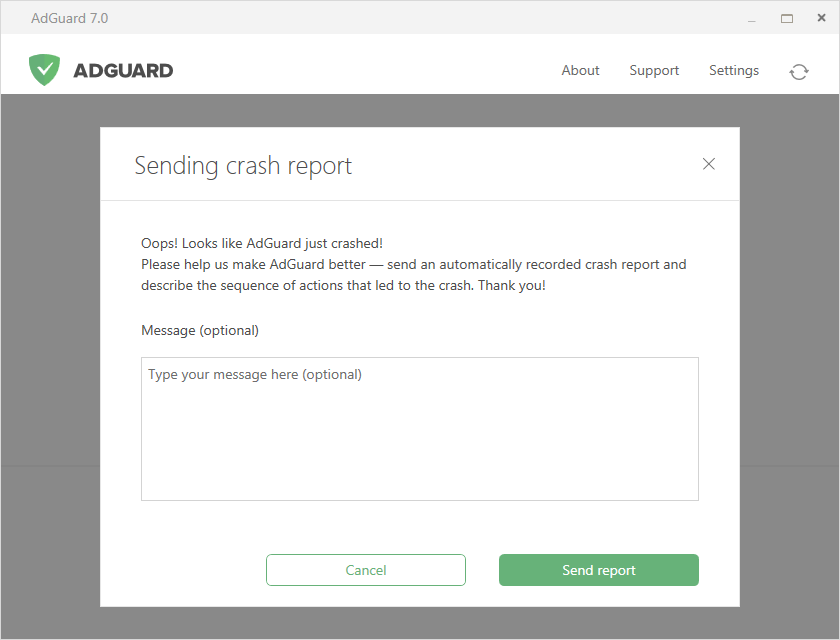 Nothing will ever be sent without your consent, and if you want to know what exactly is in the report, you can check out our
Privacy Policy
. We'll appreciate each and every report, as it will help us greatly in making AdGuard for Windows more stable.
[Added] AdGuard Extra extension #2648
In some complicated cases the usual approach with filtering rules just doesn't work. In particular, in some cases of ad blocker circumvention/ad reinjection. So we came up with an alternative solution — a userscript. For those unfamiliar, userscripts are basically mini programs that modify web pages and augment browsing.
AdGuard Extra does it in a way that makes it harder for websites to employ the circumvention/reinjection techniques. AdGuard for Windows is the second AdGuard product to get this addition, we are thrilled to see it in action and read your feedback on it.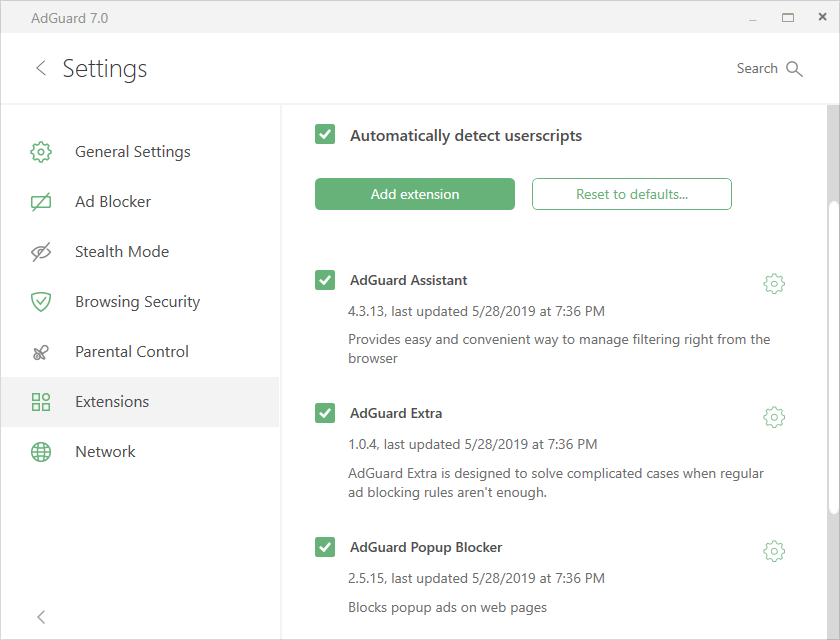 Ad blocking
Network
[Fixed] Service connection issues after hibernate/sleep #2438
UI
Other
[Added] Chromium-based Microsoft Edge to the filtered applications list #2548
[Changed] Localizations has been updated
[Changed] Logging has been made less verbose where it's not necessary #2425
[Changed] The list of apps filtered by default has been updated
[Changed] Translations have been updated
[Changed] Unicode marker (BOM) has been removed from the userscript content #2601
[Fixed] AdGuard crashes
[Fixed] AdGuard doesn't automatically detect system language #2622
[Fixed] AdGuard hangs after exiting the sleep mode #2649
[Fixed] An issue with userscripts updates #2500
[Fixed] Application update resets Assistant settings #2505
[Fixed] Compatibility problems
[Fixed] Empty lines in custom filters are imported as rules #2473
[Fixed] Error deleting backup file #2582
[Fixed] Error while doing the update check #2654
[Fixed] Excluding an app from filtering also excludes all other apps with the same executable name #2453
[Fixed] Greasy Fork userscripts display an error when checking for updates #2447
[Fixed] Installer startup delay #2388
[Fixed] The English language is set by default #2664
[Fixed] User filter rule editing bug #2584
[Improved] Additional userscript parameters are now stored when you export settings #2367
[Improved] AdGuard now checks if the userscript is already installed before downloading it #2406
[Improved] AdGuard-related system settings (e.g. UI window's size etc.) can now be imported along with the app settings #2393
[Improved] CoreLibs has been updated
[Improved] The way to get userscripts' and filter subscriptions' content #2379
This version on
Github
.
Direct
download
.