Summer is finally here — the time of new experiences, bright moments and new achievements. We've decided to burst into summer with a new release of AdGuard v7.10 for Windows — and that means that positive changes are waiting for you already now!One of the most important changes in this version was the addition of the "Protect from DPI" feature.
[Enhancement] Add a DPI-bypass option to AdGuard Stealth Mode #4175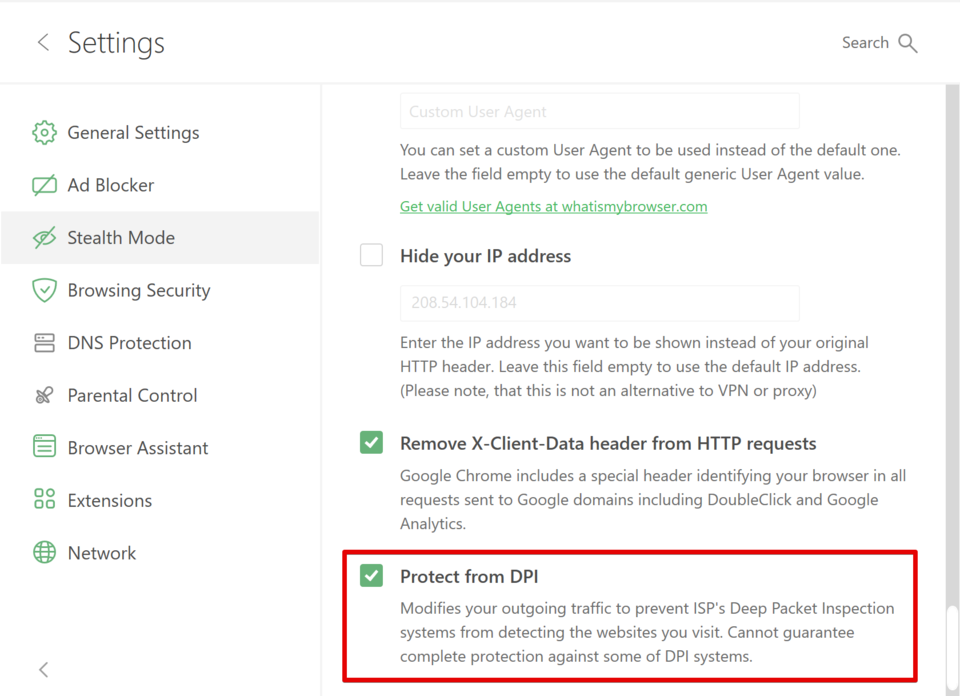 The Deep Packet Inspection is a system of deep analysis and filtering of traffic by packet content, as well as the accumulation of statistical data. Using this technology, ISPs have the ability to control the passing traffic and limit access to content for their clients.
Now AdGuard can modify outgoing packet data so that the client does not fall under the DPI blocking criteria. This means that users can get access to the content they want. However, not all DPI systems can be bypassed yet - we are still working on it.
[Enhancement] WFP and TDI network drivers
We've updated and enhanced our network drivers. This improved the app efficiency and compatibility with other software. Besides, we fixed some bugs in the WFP driver.
[Enhancement] Added dark theme to the updater window #4156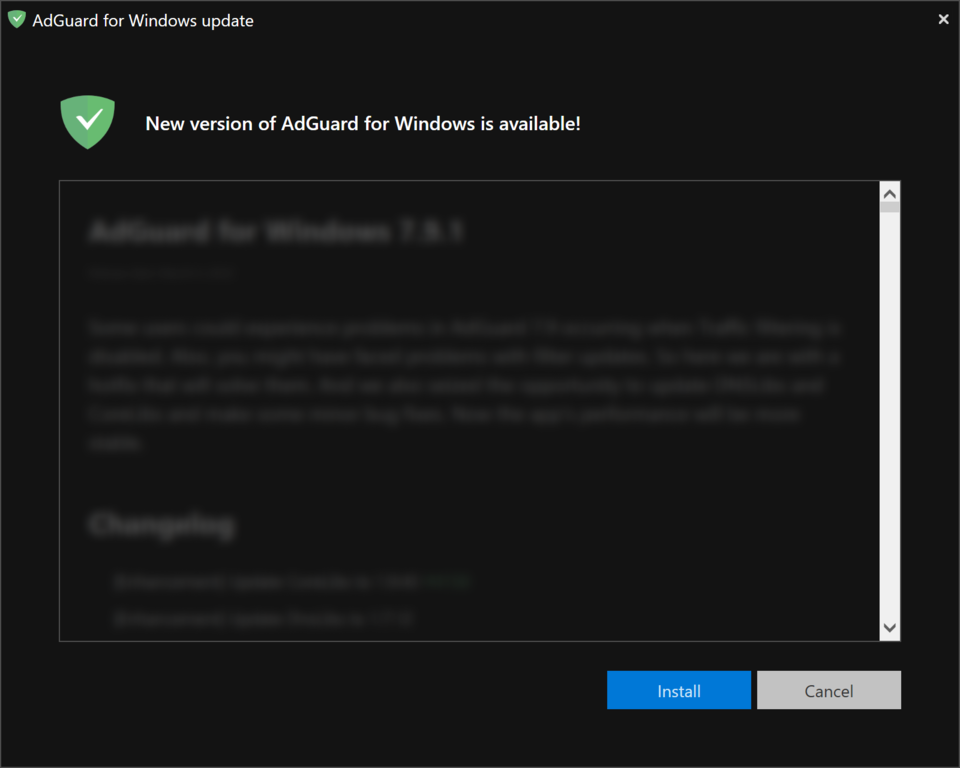 A small but very nice change — we added dark theme to the updater window. Now dark theme fans won't be annoyed by light update windows — a real joy for perfectionists!
In this release we also paid attention to the DNS functionality — we improved the app reaction to changes in the system DNS addresses. Now the risk of incompatibility with other network applications that use their own DNS servers is much lower. As always, we changed, fixed and improved a lot and also updated Corelibs and DNSlibs. All the changes are listed below.
Changelog
[Enhancement] Updated CoreLibs to v.1.9.76 #4274
[Enhancement] Added "Unencrypted" icon for "Regular" DNS servers description in the DNS tab #4121
[Enhancement] Completed the description for WebRTC feature #4104
[Enhancement] The `Protect from DPI` status is now sent to ReportsWebApp #4248
[Enhancement] Added ability to add DNS filters to the Ad Blocker module and vice versa
[Fixed] Cosmetic rules are on filtering log when the Ad Blocker module is disabled #4185
[Fixed] Crash on custom DNS address in Advanced Settings #4195
[Fixed] DNS filters are not updated when AdGuard is turned off #4118
[Fixed] Filtering rules are not fully downloaded during the update #4165
[Fixed] There is sound notification on Windows 10 while `Enable sound notifications` is disabled #4127
[Fixed] Custom filters do not work after refreshing a web page #4170
[Fixed] Browser Assistant is sensitive to the `www` prefix in the HTTPS Exceptions #4240
[Fixed] Filter name is not transmitted when subscribing via `filterlists.com` #4193
[Fixed] Correct the translation for the updater title #4154
[Fixed] The label "trusted" is not visible if a filter has a long name #4126
[Fixed] Overlapping text headers in the filtering log #4186
[Fixed] The cross button in the password input window of the Parental Control does not work #4266
This version on
Github
Download via
direct link